Mounter HIT-MS250P, Table size Wafer mounter
Mounter HIT-MS250P summary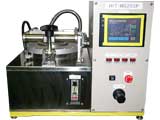 HIT-MS250P is mounter to mount thin wafer on support substrate like ceramics and crystal.
Before mounting, this machine start vacuuming and clean up bubbles, and then start to mount wafer on substrate by air pressure from upper cover airbag what is controlled by diaphragm metering pump.
After finishing mounting, you can control times to cool down.
Mounter HIT-MS250P specification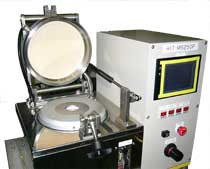 Mounter HIT-MS250P specification

| | |
| --- | --- |
| Model No. | HIT-MS250P |
| Support substrate size | Ø160mmxt15mm |
| Plate temperature setting | normal-180℃ |
| Object wafer size | Maximum Ø150mm |
| Mounting/demounting | 1shaft Vacuum clamping |
| Pressure type | Air pressure (Airbag by diaphragm metering pump) |
| Vacuum | Vacuum pump |
| Cooler | Water cooler(indirect) |
| Operation panel | - |
| Operation type | Sequence control and Block to control temperature |
| Dimension | W640xD460xH580(800)mm |
| Machine weight | 50kg |
| Notes | - |
*Specifications are subject to change without prior notice
Additional parts for Mounter HIT-MS250P
Recommendable equipment for Mounter HIT-MS250P